A few weeks ago I found myself at the Sundance Film Festival in Park City, UT. I don't often recommend that everyone I know go to some place or event (unless there is delicious food involved) but Sundance is one of those events that I think everyone should check out at least once in their lives.
It is full of so many creative people from all different disciplines and at all different levels of success. Besides their being many film makers, actors, set and costume designers there were a lot of performers there from artists and back up musicians to songwriters and film scorers.
I did have the opportunity to perform at the NY film lounge a few days. Here's a video from that of me performing a new cover song. Its "Love is My Drug" originally by
KeSha
.
A huge thank you to everyone who made the NY Film lounge a really special place to retreat for some NY live music, NY cider and bagels and the opportunity to connect with other artists and creative people from NY state. They did a great job and they were volunteering the whole week long.
I even did some street performing while I was there! In 20-30 degree weather I have never felt like more of a trooper. But it was well worth it. I met some great people while I was street performing and actually has a really special moment while I sang Stevie Nicks "Landslide" looking out over the snowy mountains and all of Park City. There are a few pictures of my street performing too.
Check out my guitar up in the snow bank!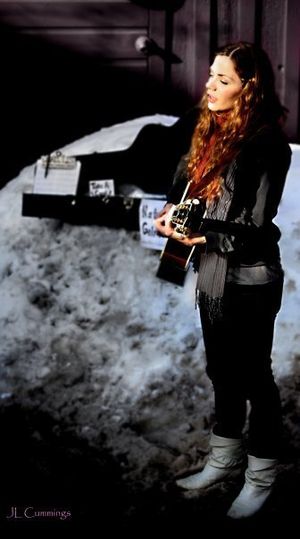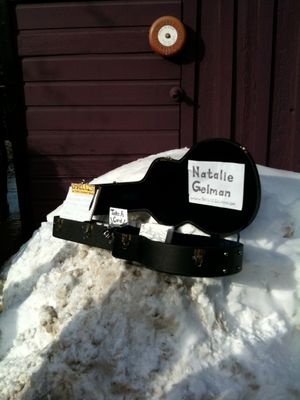 First photo by
JL Cummings
The best part of the festival is by far going to see the movies! I only got to see one but it was really special to meet the directors, actors and other people involved in the making of the film and almost feel like I am a part of their creative process because there is this awesome feedback and Q&A part at the end of each screening.
I'm planning on going back to Sundance next January and I can't wait!
xoxo
Natalie