It's hard to believe that just a week ago I was getting ready to go on stage for a big holiday show at the Bitter End in NYC! I was soooo anxious about the show because we put a lot of work into it and I was performing all new holiday songs I hadn't performed live before. I also wrote a new original holiday song to perform at the benefit.
The show was supporting and raising awareness for children of incarcerated parents and all proceeds went to In Arms Reach (
www.InArmsReach.net
) a charity that works with NYC children of incarcerated parents. The favorite song from the night was by far my cover of Silent Night that I performed with my dad on violin.
I wanted to make sure everyone had a LOT of fun and even the grinches in the audience left in the holiday spirit! We got a bunch of holiday hats as well as jingle bells, dreidles, little drums, tambourines and of course candy!
We had great sponsors on board for the show I had a lot of fun with all the raffles, giving away my CD as well as great gifts from our generous sponsors: Starbucks on Chambers and West Broadway in NYC, The New York Islanders and The Ink Pad a rubber stamp store in the West Village. We also raised a lot of money for the charity with all of the proceeds from the raffle and from the door going to In Arms Reach.
Thank you to everyone who came out and to those of you who supported me and the charity with a donation or words of encouragement! You made it a really special night for me and I can't wait to kick off all the shows coming up next year!
On stage at the show...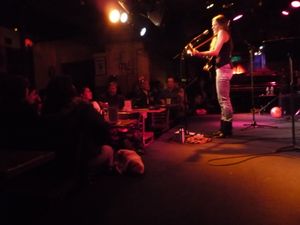 Sending you holiday cheer!
Natalie