I had a great time on the road over Oct and Nov meeting so many of you for the first time and getting to visit and perform at a bunch of great venues with awesome musicians and friends. I did learn a lot on this tour and I cant wait to head back out on the road and put some of it to use. Here's a list of what I learned to help you with your next tour or road trip or just give you a little run down of my time on the road!
13. Eat dinner before 8pm. Contrary to my NYC dinnertime of 10pm most of the country likes to eat dinner at 5 or 6pm. This makes it especially hard to find food on the road after 8pm so definitely eat dinner before then.
12. When you need to find the nearest Panera bread off of interstate 95 there is a website for that: www.i95exitguide.com You can also find this place on there but trust me you cant miss it!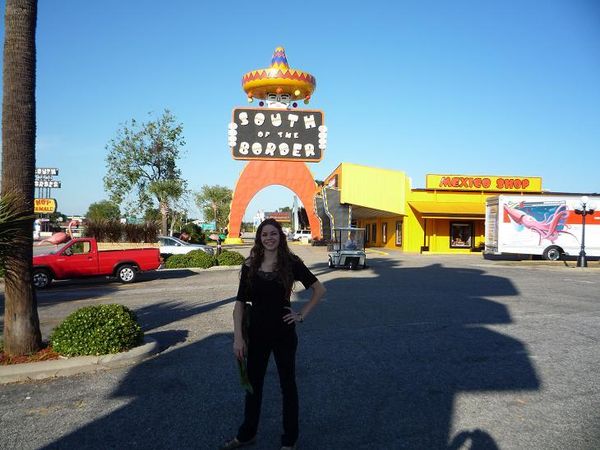 I did some tango dancing here too (see #5)...
11. Always keep an extra set of guitar strings on you, not in the car.
10. Speaking of the car, when you are spending an average of 6 hours in your car each day (some days 24 hours) treat it like that. Take out the trash every time you get out of the car and take advantage of the windshield washes at gas stations. You will be happy when your car doesn't smell and you can see all the funny South of the Boarder signs clearly.
9. Take lots of photos! You may think you are going to remember all of these experiences but you will remember so much more with photos. Journaling is great too and it's awesome to do when you are in the passenger seat for hours.
How else could you remember moments like this - warming up for one of my shows in Iowa, singing to the city of Dubuque...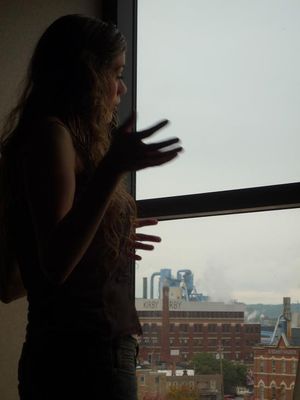 8. Dress in layers. When you wake up in snowy Iowa and its 30 degrees and drive to Nashville 8 hours later where is it 80 degrees you're stylish layers will become very functional.
Unhappy cold face...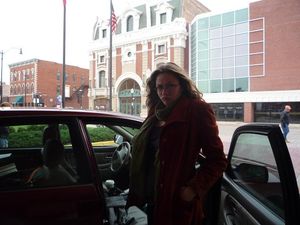 temp on the way out of Iowa...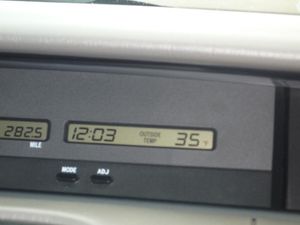 7. Keep a cooler in the car and stop for "real food" at a grocery store when you can. Eating at rest stops and local diners is okay for the first week and then you start craving fruits and veggies. Kudos if you find a farm or local farmers market on your trip.
I found a school bus of apples...
6. Play with animals when you get the chance. When you drive from one state to another you can start to have moments when you don't quite remember where you are. Playing with a dog or cuddling up with a kitty have a way of making those moments happen less often.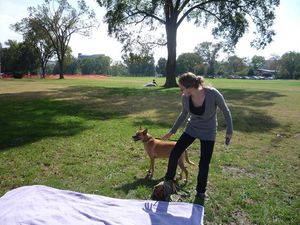 5. Get up and move or stretch every chance you get. Your back and legs will thank you. Even better, do the hokey pokey with a friend! Or the chicken dance -I'll post about later.
Hokey Pokey dancin'...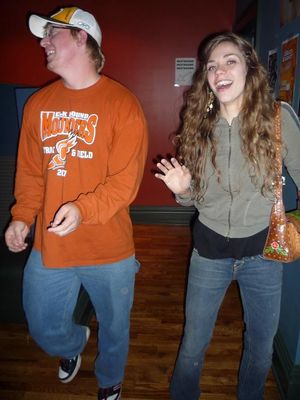 4. Be a stickler with your tour routing. Playing in PA on Mon and Tues, FL on Wed, CT on Thurs, FL on Fri and Sat and CT on Mon may sound like a lot of fun but taking your body from one corner of the country to another 4 times in 3 days is not fun and your body will thank you if you try harder for better tour routing.
3. If you get something from your suitcase in the back seat of the car remember to zip up the suitcase again before you take it out of the car or else…
My stuff on the ground... :(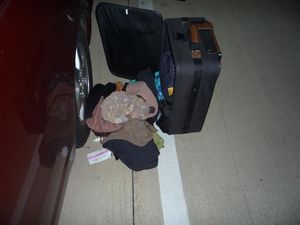 2. When you are driving in the Northeast at 10pm on a Sunday you will hit rush hour traffic and a drive that your GPS says will take 2 hours will take 4. Know that you are not alone, I have been there too… twice.
1. When you do eat out, sit at the bar if you can. You will always strike up conversation with the other people there and you never know who you might meet. Even if you don't meet the love of your life or the subject of your next break up song you will probably save some money with bar specials and you might meet a drunk best man who wrote his toast on the inside of a 12 pack… correction, you will meet the subject of a new song, guaranteed.
Check out the check marks that nobody added... those are their actual faces too...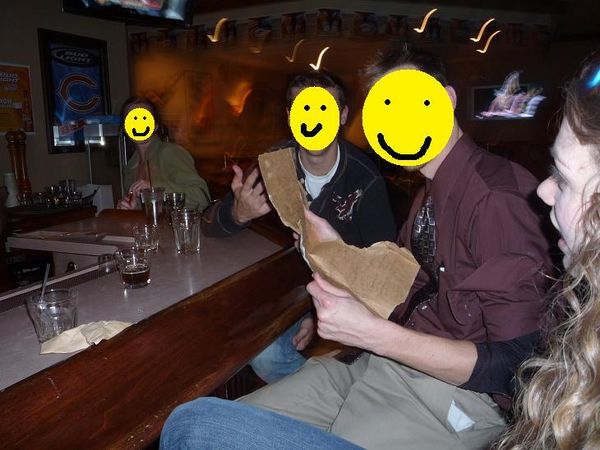 Hope you had fun reading the list. Here are some more tour photos below. I would love to hear what you learned while on tour or a road trip. Leave a note in the comments!
Xoxo
Natalie
Sunset to kick off the tour at  the Dewey Beach Music Festival...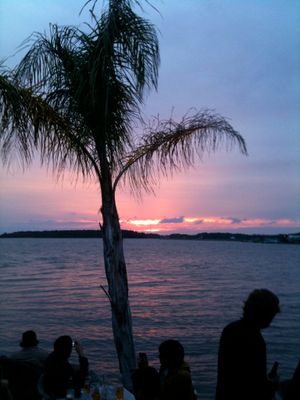 Performing at Dewey Beach - Hammerheads.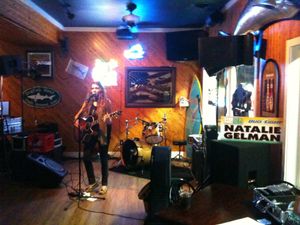 Performing at Clarke University...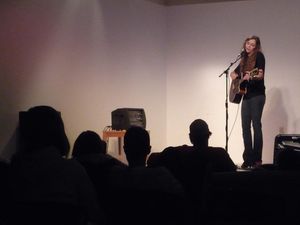 Before my Apple store show in Chicago...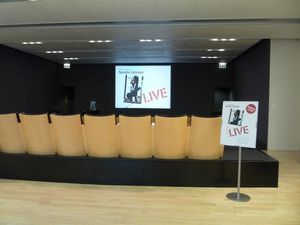 Check out the guy covered in "garbage" from Chicago... he started following me after I mentioned that I was going to take a picture of him...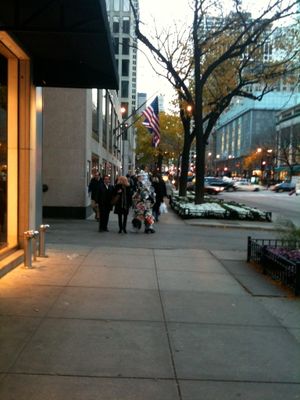 Performing at Tully's Quaker Steak and Lube in Sharron, PA!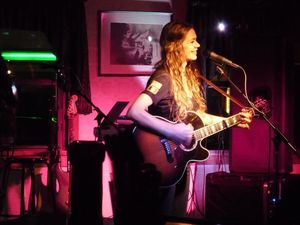 Peforming on the morning news in Youngstown, OH...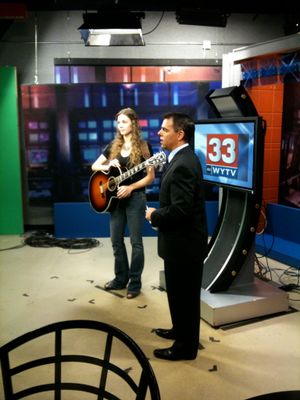 A cool tunnel in route to SC from TN...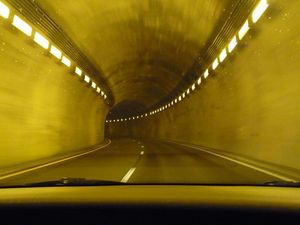 Pretty-ish sunset and a really pretty one - no idea where the sunsets were from...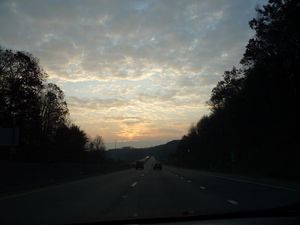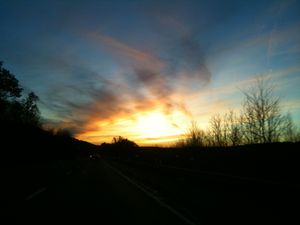 At Eastern CT State U they wrapped a present with my face for one lucky student to win!! Awesome...