It's true!
California native, Tiff Jimber and I dreamed... and drove all over CA together on our
California Dreamers Tour
a few weeks ago!
You can see all the cities we hit in this tour poster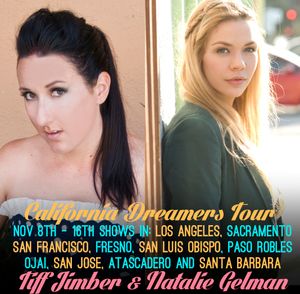 The tour was an insane amount of fun and I can't wait to head back on the road with Tiff soon! Check out her music here:
www.tiffjimber.com
Check out some, okay a LOT of photos from one of our first shows on the tour at Cold Spring Tavern in Santa Barbara. Tiff and I started accompanying each other with percussion (shakers, tambourines AND percussion on my guitar case!!) and singing backup... We even had a little assistant, a very young assistant I might add, who carried our tip jar around to unassuming guests and cried until they contributed and he moved a lot to the next unassuming patron.
I learned a lot from that little two year old and in general on this tour... my top 10:
1.  While they shouldn't, tears sometimes can help you get what you want... but it usually helps if you're under 5 years old.
2.  Driving... and parking a mini van is now totally doable. Bring it on!
3.  San Jose has been added to the ever expanding list of cities in California I will confuse (San (Jose, Francisco, Luis Obispo) Santa (Maria, Barbara, Monica)
3.a.  I just realized writing that out that those are all boys/gals depending on San/Santa... will that help me? No. Still very cool to learn.
4.  Traffic in San Francisco is actually worse then LA... I said it. deal with it. It's true.
5.  The piano skills I've been working up all year... and for 14 years when I was little... are finally being put to serious use. Thanks Tiff for pushing me to play!! <3
6.  People are great. People with dogs are greater. 
7.  A half a glass of wine will get you drunk if you've only eaten an apple that day. And by you, I mean me.
8.  There's a sweet spot on the guitar case where you can hit it and get an awesome base drum sound... But, more important then that is the sweet spot in the rhythm. Which is why I usually sang backup and played the egg shaker ever.so.softly.
9.  Breakfast is definitely the most important meal of the day. Coffee is the second most important meal of the day but it is also one of the min courses of breakfast
10.  You always notice when the tour loops back around and your headed towards home :)
Hope to see you out at the next show! Enjoy the photos!!