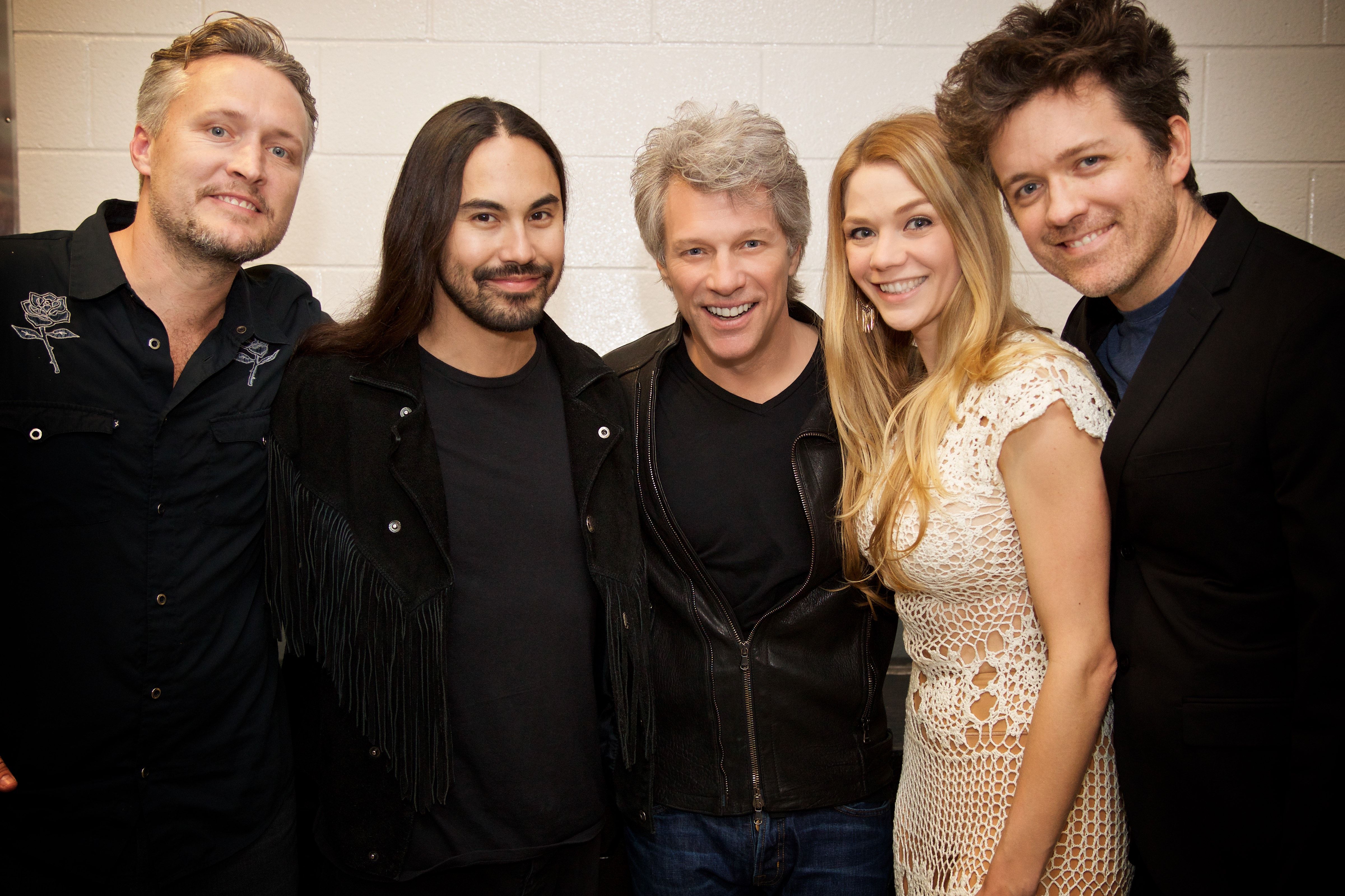 Last week marked the anniversary of my first arena show opening for Bon Jovi. ...my Bonjovirsary. ?  
I've been reflecting about the whole experience. I had such an impact on me that I'm not sure I'll be able to put it all into words but I want to describe at least some of what happened and what I felt through the whole experience. 
I applied to the contest to open for him for what I believe was my 3rd time. I'm a big believer in not giving up and just going for things. Most things I've done in life have come about because I was persistent. 
The Bon Jovi team selects a different act/band in each city and there was a closer, Los Angeles date that I was going to apply for but couldn't do because of some things I had scheduled back east on that date. So, I applied for the Sacramento date instead. In hindsight there was probably less competition for the smaller market and that may have helped me land the gig. 
I got a call from LiveNation and as the man on the other end of the phone told me what was happening I asked him to take the phone away from his ear so I could scream and not hurt his ear. 
Brent was sitting near me while all this happened and I think I explained in a few words to him that I was opening for Bon Jovi while still listening to the guy on the phone about what was next, how I couldn't announced that I was selected just yet, how I needed a band to be confirmed etc. I may have needed to scream again and Brent was worried I wasn't playing it cool enough and that they would take it back from me thinking I was a crazy person. 
I was really excited, not because it's Bon Jovi (sorry Jon and camp you're all amazing) but because I has been feeling so down on myself and my career at that point. 
In this business, you are constantly on a rollercoaster of things falling through and getting told no or not hearing anything at all from countless things you go out for mixed in with things like this sprinkled in to make you believe it's all worth it. 
They say it's best if you have tough skin but honestly I think my skin has become more penetrable the more I open up with my music and songs. I want to say maybe you have to just have a tough heart but I don't think that's it either. I think you just have to be stupid enough and want it enough to not give up. And it really can suck sometimes so in this moment, when it didn't suck, I was going to fully express just how ecstatic I was and scream with joy! 
I think I had a smile on my face the whole three-four weeks leading up to it.  And that's all I had, just weeks to get ready for my biggest show ever. 
Much like getting married, when people like to ask you if you have a date for the wedding as soon as you're engaged and once you have a date they like to ask if you're going to have kids, folks were asking me if I was nervous as soon as they heard about the show... but I wasn't. 
I had good reason not to be. I have played my 10,000 hours plus. From playing in the subway for years and years (I still do) and playing 1000's of shows to all kinds of audiences across the world I have developed a deep trust in myself on stage. 
When I play a show, I am 100% there to entertain folks and I will do everything I can to give them a great show. But I also know, that if anything goes wrong or comes up that isn't perfect I can recover from it or even if I can't it's not the end of the world and we will all be okay. 
Plus, I had already performed the hardest song to sing in public in this country – because of the scrutiny we put people under when they sing it – our National Anthem to more people then were expected at the show and once even in front of Jon himself when he was supposedly at a game for a team he owned. 
So, I told myself I wasn't nervous and really I wasn't. I was just excited and knew how much work had to be done to put on a great show and make the most of the opportunity. And I was more then ready to do it. 
I went to work putting together my band with players I knew that I could trust. My goal was to be the worst player on stage. Sounds crazy probably but I wanted to know that if I made a mistake the band would keep going. I worked with folks that are my good friends so I knew they had my back and they have also have played arenas all over the world so this was just a walk in the park for them. 
I spent time deciding what I would wear that would make an impact on stage, what I would say between songs so I didn't ramble on – those who have seen me in listening rooms and house concerts know I'm really good at turning a music show into a comedy show with my banter. 
I designed and printed out drum logos, social posts and giveaway cards that I hired a local team to hand out at the show to try to get fans from the gig to have something with my name on it. 
I reached out to the instrument manufacturers and companies I work with already about borrowing gear for the show – Thank you Guild, Roland and AStars. 
I drew up a press release and reached out to local and regional press with the story in my tour dates leading up to the show as well. 
I booked Airbnb's in Sacramento and coordinated travel and meals for an entourage of 6 band mates and girlfriends, plus others helping film my set. 
Honestly, I would say that I worked harder then I ever have in my life, which is saying a lot for me because everyone who knows me will say that I'm a workaholic but I think I just worked with a single minded focus on the show – 20 minutes on stage at my biggest gig ever. 
The weeks went by quickly doing everything, rehearsing with the band, playing the tours and dates I had already booked, I still has some intense emotional stuff going on with my mom during all of it too – she went into a nursing home the week before the show which was so hard on me. 
I woke up after just 6 hours of sleep, too excited and restless with adrenalin to rest. With everything going on, the show was just a wonderful thing to work towards. I was just so excited to have the opportunity. 
Brent and I drove up to Sacramento the day before the show and I went to buy groceries and snacks for both Airbnb's and get everyone settled in. Friends from out of town had flown in to see the show and we all went out for dinner and drinks and an early night to get some rest before the show. 
The day came and I had it scheduled out so I could try to be in optimal performance space... I am pretty flexible but have some things I do: a light workout to get the blood flowing, lots and lots of water, stretching, headspace stuff so I'm mentally focused, going over the show with the band mentally including double checking any spots that had been not super tight... it all helps so I can surrender to the moment once I get on stage knowing I've done everything I can to be prepared. 
The band and crew drove over to the arena nice and early for our load in. We were a bit shocked when we got there by all the security to get in – they aren't messing around in these places! 
Once parked inside, a crew of dozens of folks – both specifically from the Bon Jovi team and the local crew from Golden 1 Center – came to help us unload and get situated in the venue. When I say dozens I mean it. I think it was about 30+ folks and that showed up to help the 5 of us who went to the venue for soundcheck get sorted out and loaded in. 
If you've ever seen me load in to one of my gigs you know it's usually just me holding a number of things all at once... I've been known to carry my guitar, ukulele, cables/microphone bag and merch suitcase all in one trip. For this load-in there was once person to carry every little single solitary item. 
They brought us and all our stuff over to our greenroom, which was a far walk from where our cars were parked and where the stage was. It was labeled in the hallway with a sign with my name on it and setup with snacks inside. 
We had a few minutes before heading over to the stage and just wanted to settle in a little bit, let my guitar acclimate to the freezing cold air conditioner inside the arena and hang up my dress, and my backup dress - yep, I had a whole backup outfit incase something happened to the first one. 
It wasn't long before we were called to head to the stage for soundcheck. We went over there with all our gear, I wore the shoes I planned to wear on stage for the show to sound check – another little thing I learned to do to make sure there are no surprises when you play and realize that your shoes and the stage don't agree. 
Something was wrong with the guitar amp or guitar signal for Bon Jovi so we were on standby for a while but got in a full arena soundcheck. Often on tour sometimes, opening acts won't even get a sound check I've been told but the Bon Jovi team really took care of us and made sure we were comfortable. 
It was actually nice to hang on stage during the technical difficulties they were having because it gave me more time to visualize the show I wanted to put on and take in the whole moment. 
When it came time for our soundcheck they had us each check instruments individually while they checked the room and monitors volume and balance. We kept our hands in the air until we had enough volume in our monitor or each instrument and voice. It started with drums and bass then guitars, pianos and finally vocals. 
The first sound our band made was from my drummer, Scott, hitting his kick drum. It sounded so full and fat and gorgeous. You could hear it filling the whole arena and coming back at you bigger then your own heartbeat. I turned around to my drummer from where I had been facing forward waiting to see if I had enough in my monitor and was like "Yessss, this already sounds amazing!!" He looked at me and said, "It feels like I'm fucking myself." I don't think truer words were ever spoken. Ha! 
We soundchecked all the instruments one by one and then played through a verse and chorus of two songs. It was back to the Greenroom for us to get dressed, me to do my makeup and wait for dinner before the show. 
We headed over to meet Jon and go to dinner about an hour later. Jon was really nice and asked us how soundcheck went and if we had everything we needed. We all got to chat with him for a few minutes and take a few photos. 
From there we went to dinner, which was an amazing buffet meal that puts Vegas casino buffets to shame. My mouth was watering with all the beautiful food but I made a small plate because I didn't want to perform on a full stomach – another thing I've learned over the years singing is not to eat too much before you sing. 
We went back to our dressing room and waited for show call. I think some of the crew came and checked in with us, the tour manager and assistants and friends of friends who were in Jon's band and wanted to say hi. It was such a friendly and warm environment and everyone was really good at their job and made us showing up to do our job really easy. 
When it came time to get backstage to standby before going onstage I couldn't believe the moment was finally here. I hugged all the guys in the band and told them all one last time that I was excited and grateful they were there with me. We walked up the steps to take the stage and any cool I had immediately left the building because I was just so excited to play for all those people. I decided to wave at everyone in the arena instead of playing it cool. 
I took my guitar and looked over at my guitar and banjo player, Nathan who asked me "When do we start?" and I said "Now. 1, 2, 3, 4". 
We started our first song strong and any last minute nerves I had completely faded away. I just felt totally grounded up there - doing my job and putting on the show we rehearsed for them. 
There was something else happening too that really surprised me... it was easy. 
Most of the shows I play are just me playing solo – I hold the weight of the show and the room on my shoulders. If something goes wrong and something happens onstage or in the audience I have to acknowledge and recover from it. As a performer, the audience wants to know that you are in charge and they are safe with you. If you've never been on stage that may not make sense but start notice at the concerts you go to from now on how the room feels. If the performer onstage isn't in charge it feels like the room never settles in. 
What amazed me was how easy it is to be onstage in front of an audience that large. I had a lot of things helping me of course, my band, the lights and sound system and all the crew but also the collective energy from all the Bon Jovi fans – it helped that I had a bunch of fans that also bought tickets and came out to witness this show. I even saw some friendly faces in the audience right as I stepped onstage, which was amazing! 
The amazing thing about a room that large is that the audience becomes one. Often I spend my time onstage tuning in to people individually and taking a 'read' on the audience one by one. Even when I've played 1500 and 2500 rooms opening for people there are still individuals that really stand out and you have that laser beam connection with through the show. For the Bon Jovi show the whole audience was that person. It felt enormous and intimate all at the same time. 
I truly loved every single second of being onstage that night. It's actually making me tear up right now thinking about it and I know I'll always remember everything and everyone about that day with so much gratitude. 
To jump back for a minute, as the show was approaching I was joking with folks that I was as excited to open for Bon Jovi as I was to get married to Brent which I had done about 4 months earlier. Somewhere before getting married I had read before my wedding day that I would be surprised to find that my cheeks hurt that day from smiling so much. I didn't really believe it but sure enough, I found myself at the alter getting a tinge of a cramp in my cheeks because I was smiling so deeply! 
I felt that same deep and pure joy onstage. I was so elated and in pure joy to sing for everyone and do what I feel I'm put here to do. It's almost like my heart was smiling and bursting all at once. 
On my last song, when everyone joined me in turning on their flash on their phones and taking a picture of my song Photograph to capture the moment with me it was overwhelming. If you watch the video you can see me turn around to the band screaming with excitement and even hear it if you listen closely. 
As we finished the song 17,000 people that had never heard the song before were actually lightly starting to sing along to my words on the chorus. I didn't realize it until later when I watched the video because I think I was in my head for the first time onstage and already not wanting it to be over. 
I thanked everyone, there were more photos taken, I waved again at everyone as I broke down my gear. I tried to throw my guitar picks to the first row – which I learned is terribly hard and requires a certain kind of finger flicking motion I haven't perfected yet. 
I'm not quite sure the order of things because I was a little in shock I think that it was over. 
I hugged the band and waved again and tried to get a last looks of everything from onstage again. 
In my head, all I could think was, "What do I have to do, what song do I have to write to get onstage like this again?" 
The band broke down our gear and cleaned up the dressing room. We had to clear out the backstage area before Bon Jovi went on. We went out into the arena to watch the show and I watched for a while and met some new fans in the audience. 
I knew that I should get to work though and after watching half the show left to find the team I had hired to hand out cards with a link to my music on them. I wanted to help them hand them out as people left at the end so we would give away as many as possible but ended up mostly taking and meeting people as they left. It was so fun taking photos with everyone, signing autographs and seeing fans and friends that had traveled from across the country to be there with me that night. 
Afterwards we went back to one of our Airbnb's and watched out set again on the big tv the house had. It was surreal that it was over. 
One of my friends who came from out of town had a bunch of folks write me cards and notes and put them all in a box for me to open that night which was sooooo sweet and moving. It was the perfect thing to read and feel that love and support. 
The next day we packed up and unsuccessfully looked for a place where we could all get breakfast at 11am on a Wednesday before giving up and heading out down the road. It was all still kind of surreal. 
I may have been hoping it would all mean more. That maybe Jon would ask me to come sing with him on that Jennifer Nettles song or a manager or agent would see me and see that I'm capable of more then the mismanaging of my own career. But that's the rub, I can't know what this will mean for years maybe. Or maybe I already do. 
I know it's given me more confidence as a performer, I know I did the best I could with the opportunity and tried to turn it into new press by reaching out more in the months that followed as I toured with the story. I tried to turn it into lots of new fans, even going in and liking every single comment posted on Instagram and Facebook by fans there that night when Bon Jovi posted the photos of him with my band online. 
I think that knowledge of what I'm capable of really means a lot at the end of the day. It pushes me to have had the opportunity, but also to realize that this is just another show on my journey to success. It's a stand out show of course but it's something I always had in me and have in me still. 
I hope I get to play an arena again one day. Maybe opening for more then one show... maybe headlining my own tour. Maybe just having the keys to my own arena ...kidding on that last one! 
It's strange to try and understand the whole experience. In the years since I feel like I should have accomplished more. Like it would have set of a chain of events unfolding towards more success and opportunities. But change happens slowly, there have been lots of special things that have come up because of this and the work I've done since and I just have to keep showing up and seeing where the road takes me. 
If you haven't seen my set that night the show it up to watch here on Youtube. You'll see some moments from soundcheck and backstage too.
Thanks to everyone again who made that night possible. My band, friend and fans and the whole Bon Jovi team and crew and all the Bon Jovi fans there that night - you're all amazing. ❤️
Photo Credit: David Bergman